How did Lisa's Sweet Treats Begin?
Lisa's Sweet Treats is a Warwickshire based independent sweet company that has been running since 2019, starting off with providing sweet carts at wedding and personalised family gifts
As the company grew so did our passion. Lisa's Sweet Treats evolved into offering an online shop and corporate gifts, meaning that more people could experience the sweetness! My goal from the very beginning has been to make people feel special with gifts that are unique and personal. An idea that has been met with high demand. In just a year, we were even sending our treats internationally!
Things can only get sweeter, and I can't wait to see what the future holds for Lisa's Sweet Treats.
Our Mission
Here at Lisa's Sweet Treats, we believe all the important moments in life can be made even sweeter with a thoughtful, personalised and delicious gift. Whether you're looking to brighten up your best friend's day or you want to treat your star employee – we have something for any occasion. Our scrumptious products are carefully selected, and suitable for almost all diets so, everyone can get a taste of the action. We pride ourselves on being excellent value for money and we guarantee the highest level of customer service. We know there's nothing sweeter than service with a smile! Let us help you to sweeten the experience.
Our Vision
Lisa's Sweet Treats will be the confectionary gift company of choice to help everyone give that delightfully unique treat to the people who matter to them the most. People are the heart of our company – we are focused on communication, exibility and excellent value for money. Shopping with us is a truly sweet experience.
Our Values
We are passionate and enthusiastic about providing the highest level of service, care and quality.
We are people-focused, and our suppliers, customers and employees are the heart of our business.
We have fun with what we do, because happiness leads to success.
We are trustworthy and we can be relied on to continuously provide the top quality we are known for.
We are straightforward and uncomplicated, offering our customers a seamless experience with quick service.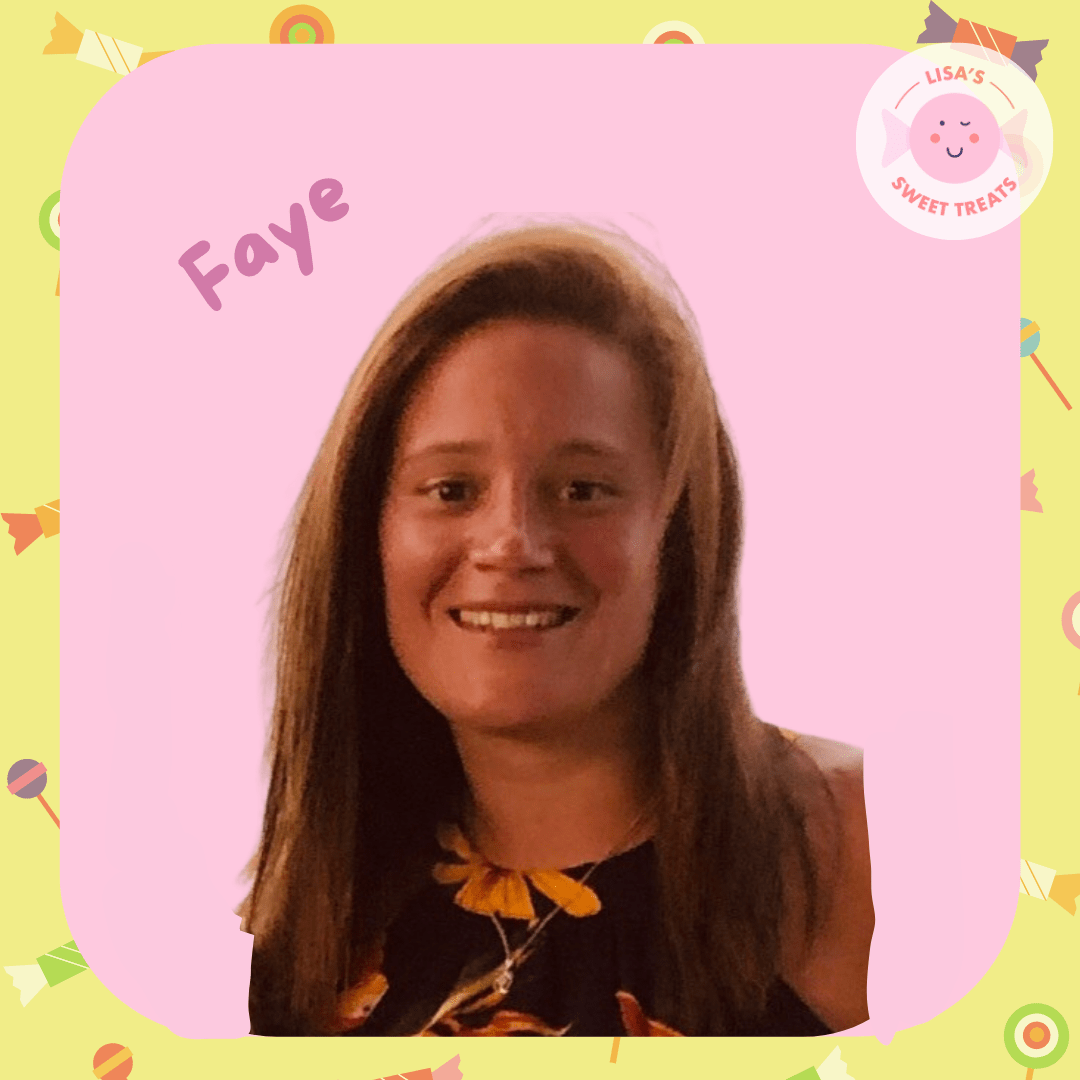 Faye Williams
Owner/Managing Director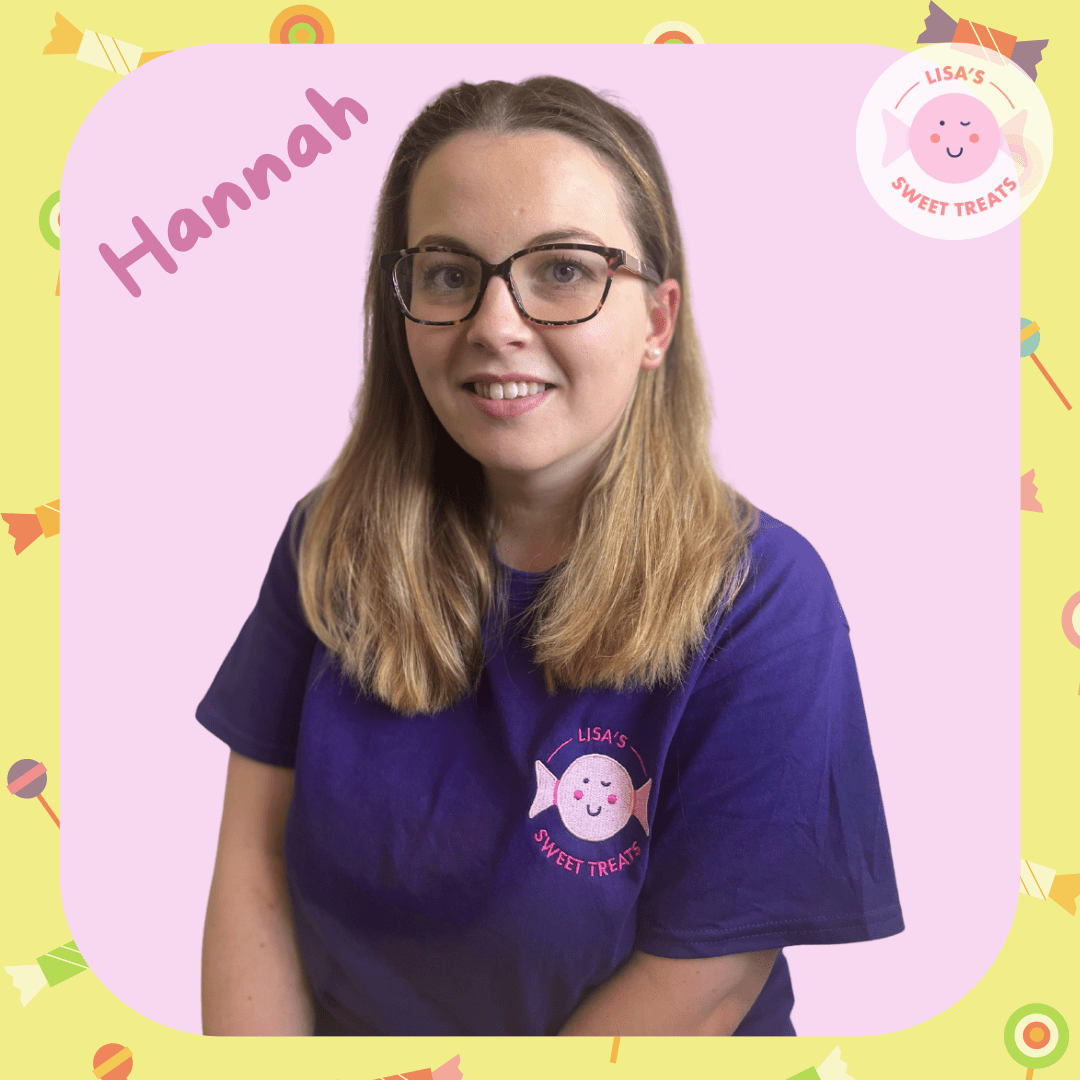 Hannah
Senior Team Member
Faye bought the company in February 2023 after Lisa founded the business in 2019 and is enjoying growing the team, developing new products and working with new business to sweeten the experience
Favourite Sweet
Jelly filled brains!

What do you like to do in your spare time
Love spending time with my little girl Poppy and going on adventures around the world
 Hannah prepares the orders from the shop and for our corporate clients. She also loves designing and creating new products. She does a fab job of making sure everyones  treats are of the highest quality and delivered quickly!

Favourite Sweet
Barrett milk bottles

What do you like to do in your spare time?
Gardening, family time and day trips out!
Our sustainability Pledge
At Lisa's Sweet Treats we know that as a company it is our responsibility to employ suitable sustainability practises. We are committed to our role in helping the planet and reducing emissions to ensure our products can be offered without damage to our environment.
To ensure we are doing all we can, we regularly review our suppliers and processes to make sure they are in line with our beliefs.
Here are some key things you need to know about Lisa's Sweet Treats commitment to sustainability:
All orders are sent in recyclable cardboard boxes

All our sweet bags are compostable, no plastic bags anymore

Our preferred suppliers are those with recyclable products and 100% recyclable packaging
Most orders are sent via Royal Mail to avoid using couriers and to reduce emissions
Our sweet jars are made with durable plastic and can be up-cycled to store items around the house (cotton buds, pasta, sugar and many more!)
At Lisa's Sweet Treats we are available and open to any ideas about how we can be even more sustainable. If you have anything in mind, please do let us know! Or, if you have any questions or concerns, please get in touch by emailing hello@lisassweettreats.co.uk and we will get back to you!