Building your own pick and mix pouch has never been easier! You can pick exactly what you want and build a custom pouch. If it's getting a treat for yourself or buying a gift we have you covered. Order your sweet treats with us and have them delivered in the post the next day. We also send out personalised note cards with orders ideal for gifts and offer a bespoke option to upload your own label for the pouch.
We have over 80 different sweet selections and 8 different pouch sizes.
Each filling will be approx 50 grams
Any questions in relation to allergens or ingredients please feel free to contact us
Ingredients : Check out our full ingredients list "here"
Additional information
| | |
| --- | --- |
| your pouch size | Clear 1.5kg – 30 fillings, Clear 1kg – 20 fillings, Clear 250g – 5 fillings, Clear 500g – 10 fillings, Clear 750g – 15 fillings, 250g – 5 fillings, 500g – 10 fillings, 800g – 16 fillings, 1.3kg – 26 fillings, 2kg – 40 fillings |
You may also
like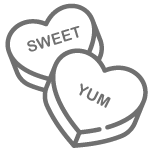 Love Sweets?
Subscriptions coming soon!
Refer a friend
Receive 5% off your next order
See our Trustpilot Reviews