A chocolate feast that even Willy Wonka could be tempted by! Chock full of all your childhood favourite chocolate bars this box will surely put a smile on you or your loved one's face!
Our Chocolate Treat Boxes come stuffed with all the best chocolatey treats.
4 mini bars of chocolate (Freddo, Fudge, Chomp, Curly Wurly)
3 bars of chocolate (Malteasers, MilkyBar, Caramac)
1 sharing bag/bar of chocolate
Each Chocolate Treat Box measures 18cm x 13cm x 3 cm (base size) and can be personalised with a label on the box.
None of the products listed above contain peanuts or nuts but may contain traces of peanuts and nuts.
We don't send any paper receipts with our products, so they are ideal to be sent directly!
Additional information
| | |
| --- | --- |
| Weight | 0.75 kg |
| Label Colour | Blue, Green, Orange, Pink, Purple |
You may also
like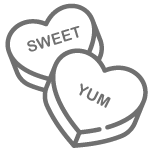 Love Sweets?
Subscriptions coming soon!
Refer a friend
Receive 5% off your next order
See our Trustpilot Reviews