Get your monthly sweet fix fill with Lisa's Sweet Treats mix of the month in our handy letterbox pick. We mix these up every month to sustain your sweet tooth!
Christmas Mix is our Mix of the month!!
Jelly , Foamy and fizzy flavours of a range of our favourite Christmas pick n mix
With 9 different sweets in the mix guaranteed to satisfy the taste buds and leave you wanting more !!
Including fizzy trees, gingerbread men, reindeers, snowy mix, candy canes, candy poles, elves, penguins and snowflakes
A range of our products come with the option of Christmas Mix so choose yours and grab it whilst stocks last!
Sweet jars, pouches, sweet boxes, letterbox treats and lots more!!
If you are too and still fancy something to satisfy that sweet tooth and struggling to source something then dive right in!!
Treat your friend or loved one to a unique gift and make them smile this month even if you haven't seen them.
We don't send any paper receipts with our products, so they are ideal to be sent directly!
Additional information
| | |
| --- | --- |
| Weight | 0.7 kg |
| Label Colour | Blue, Green, No personalised label, Orange, Pink, Purple |
| Sweet Options | Mix of the Month |
You may also
like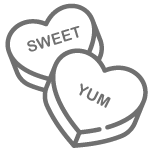 Love Sweets?
Subscriptions coming soon!
Refer a friend
Receive 5% off your next order
See our Trustpilot Reviews