Indulge in a world of sweets with our medium pick n mix jar! We've got all your favourite flavours and textures, from tangy to sweet, sour to gummy.
Our jar is perfect for catering to all dietary needs, so you can enjoy your favourite treats without any worries. Whether you're vegan, gluten-free, or simply looking for a healthier option, we've got you covered.
Our jar is filled with a wide variety of sweets, so you can mix and match to create your perfect combination. Order now and satisfy your sweet tooth with our delicious pick n mix jar!
Our medium jars measure about 27cm in height and are made from food-safe plastic and contain around 600g of mouth-watering pick n mix
Once you've munched them all you can just refill it again and again with our yummy pick n mix pouches. The gift that keeps on giving!
Make it extra special with a personalised note or picture on the label and let the recipient know just how much they mean to you.
We don't send any paper receipts with our products, so they are ideal to be sent directly!
Additional information
| | |
| --- | --- |
| Weight | 0.680 kg |
| Dimensions | 8.5 × 8.5 × 27 cm |
| Sweet Options | Classic Pic n Mix, Dairy Free, Gluten & Dairy Free, Gluten Free, Sugar Free, Vegan, Vegetarian, Halal |
| Ribbon Colour | Any, black, Blue, Dark Purple, Gold, green, No Ribbon, Pink, Red, Silver, Yellow, Orange |
You may also
like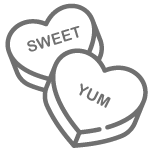 Love Sweets?
Subscriptions coming soon!
Refer a friend
Receive 5% off your next order
See our Trustpilot Reviews