A Lisa's Sweet Treats exclusive to the UK!
Getting older just gets sweeter! Order a unique sweet-filled number and fill it with any of our pick and mixes to make the ideal gift for any celebration.
From your best friend's 30th  birthday to your parents' wedding anniversary, you're sure to win present of the day with this one!
Depending on size, our numbers contain around 350g of pick'n'mix. Filled to the brim with their favourite gummy, foamy or fizzy sweets this gift is sure to get their mouths watering!
The numbers are made from plywood and stand at 22cm in height. They will arrive beautifully presented and wrapped up tightly in cellophane, so no sweet escapes before they're delivered to your door!
We don't send any paper receipts with our products, so they are ideal to be sent directly!
Additional information
| | |
| --- | --- |
| Number | 0, 1, 2, 3, 4, 5, 6, 7, 8, 9 |
| Sweet Options | Classic Pic n Mix, Dairy Free, Gluten & Dairy Free, Gluten Free, Sugar Free, Vegan, Vegetarian, Halal |
You may also
like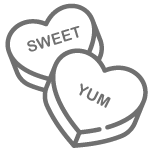 Love Sweets?
Subscriptions coming soon!
Refer a friend
Receive 5% off your next order
See our Trustpilot Reviews