PUN BOXES!
The perfect addition to any gift!
How cute are these ?
Choose from a selection of   You're Simply the Best (pink shrimps) , You're one in a melon (sour watermelon slices),  You're Eggstra special (gummy fried eggs) or Turtley Love You (jelly filled gummy turtles)
Surprise someone with something different!
Additional information
| | |
| --- | --- |
| Weight | N/A |
| Ingredients | Shrimps: Sugar, Glucose Syrup, Water, Dextrose, Beef Gelatine, Cornflour, Colour (Beetroot Red), Flavouring. Turtles: Glucose Syrup, Sugar, Gelatine (Pork, |
| Sweet Options | Turtley love you, you're Eggstra special, you're one in a Melon, you're Shrimply the best |
You may also
like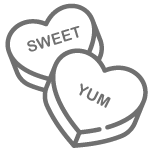 Love Sweets?
Subscriptions coming soon!
Refer a friend
Receive 5% off your next order
See our Trustpilot Reviews